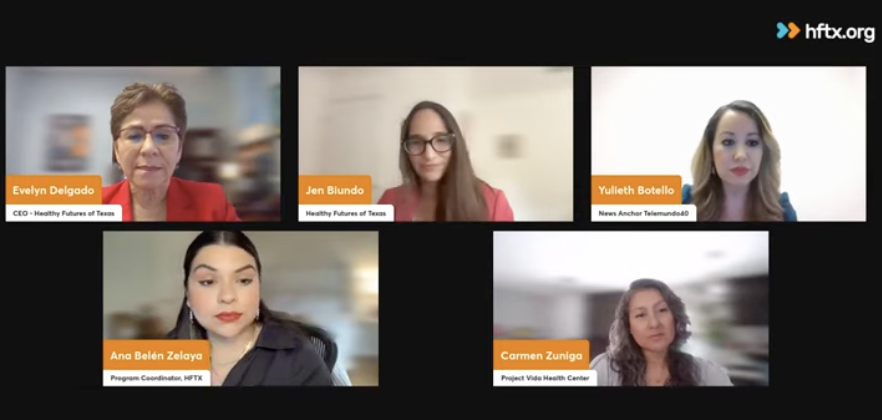 New data just released by the CDC shows that Texas had the 8th highest teen birth rate in the nation in 2022. We also have one of the highest rates of repeat births among 15 to 19-year-olds. 
Although the teen birth rate had been decreasing for many years in Texas and nationwide, this changed in 2022. Texas saw the first increase in teen birth rates in 15 years. The newly released data reflects births that took place in 2022, many of which were conceived in 2021 as schools were still dealing with COVID disruptions. Though the increase was small – less than half a percent – Healthy Futures of Texas does not want this to become a trend. What's even more concerning is the fact that we saw disparities widen with black and Hispanic teen birth rates increasing while the birth rates for white teens continued to decline. 
Texas teenagers are giving birth at a rate that is 50 percent higher than the national average. A baby is born to a teen mom in Texas every 25 minutes. 
On October 4, Healthy Futures of Texas hosted our first "Hispanic Heritage Month LinkedIn Live: Disparities in Teen Birth Rates for Hispanic Youth," moderated by Yulieth Botello, News Anchor for Telemundo 40 in McAllen/RGV, with an esteemed group of panelists: 
👉🏼Watch Evelyn Delgado, CEO of Healthy Futures of Texas, talk about how Healthy Futures of Texas is helping increase equitable access to sexual health resources and education for Texas teens and young adults.  
👉🏼Watch Jen Biundo, Senior Director of Research & Policy for Healthy Futures of Texas, talk about the impact of the Texas opt-in form. 
👉🏼Watch Ana Belén Zelaya, Program Coordinator, Texas Youth-Friendly Initiative & Texas is Ready, talk about resources to help schools and school districts select the right sex education curriculum for them. 
👉🏼Watch Carmen Zuniga, Deputy Youth & Access Strategies for Project Vida in El Paso talk about resources available to El Paso County residents.  
With a shared goal of addressing and preventing unintended teen pregnancy, STIs, and HIV among young adults and teens, particularly among Hispanic teens, we convened a panel of sexual health and reproductive health experts from San Antonio, Austin, El Paso, and Houston. 
Our experts also discussed the Texas mandate that public schools implement an "opt-in" policy requiring written parental permission for students to receive instruction on sexual health and the prevention of child abuse, family violence, dating violence, or sex trafficking. This opt-in policy is in contrast to the opt-out policy, in which schools automatically enroll students, and parents may remove their children from the instruction. Texas is one of five states that have an opt-in policy for sexual health education and the only state to require parent opt-in for abuse prevention instruction.
Thank you to the more than 100 attendees who attended to hear reasons for the disparities, possible solutions, and ways we can all help ensure that all Texas teens, particularly Hispanic teens, are equipped with the tools they need for their future. We recognize that Hispanic Heritage Month is a time for celebration and recognition. Yet, it's imperative to give voice to important issues impacting many young adults and teens across Texas. 
Want to see the full HHM Panel? Watch it here. 
And congrats to the two attendees selected randomly to receive a $25 Amazon gift card!! 
Are you a Texas health educator, adolescent health professional, school district providing sex education, or a parent with questions about sexual health, teens and dating, healthy relationships, etc.? This event is for YOU! 
RESOURCES
Would you like to support Healthy Futures of Texas in increasing equitable access to medically accurate sexual health education and resources?